What is NaNoWriMo?
As the month of November draws nearer, you may start to hear buzz surrounding NaNoWriMo or NaNo. Officially known as National Novel Writing Month, NaNoWriMo, (or NaNo,) is a month-long event that encourages participants to write a novel (at least 50,000 words) in the month of November.
NaNoWriMo is a fun and fast-paced approach to creative writing with a mission statement that reads:
National Novel Writing Month believes in the transformational power of creativity. We provide the structure, community, and encouragement to help people find their voices, achieve creative goals, and build new worlds—on and off the page.
For anyone who has ever dreamt or even just considered writing a novel, NaNoWriMo is the perfect way to challenge and motivate yourself, find the resources you need, and tap into a community of writers who can help and support you along the way.
How can I take part in NaNoWriMo?
If you want to participate this November, all you have to do is sign-up and follow a few short steps. NaNoWriMo is open to anyone over the age of 13 and is completely free to enter. Young writers who are 17 and under also have the option to participate in the Young Writers Program.

Before the month of November
Go to NaNoWriMo.org and click "sign-up" to create your profile and connect with like-minded NaNoWriMo writers throughout the month
Once you've selected a username, and password you will receive an email that will enable you to confirm your account. (Remember to check your spam folder!)
Click on the link in the email and sign in.
Next, give your novel a name:
This can be the title or a place-holder, but is necessary in order to update your word count when November begins (and don't panic, you can change it later.)
In this section you will also be able to later add your novel genre, cover image, excerpt or synopsis.
This will allow you to connect with your local NaNoWriMo community and to be notified of events happening near you.
Fill in user profile
 If you choose you can add your location, hobbies, favorite writing music and more
Get inspired + prepared
---
During the month of November
Begin writing
Earn badges
Collect badges as you reach word-count milestones or by participating in events, finding a writing buddy, or donating to the cause.
Connect with your local NaNo community
 During the month of November you can find motivation and support by connecting with other writers in your area via forums, events, or by selecting a writing buddy.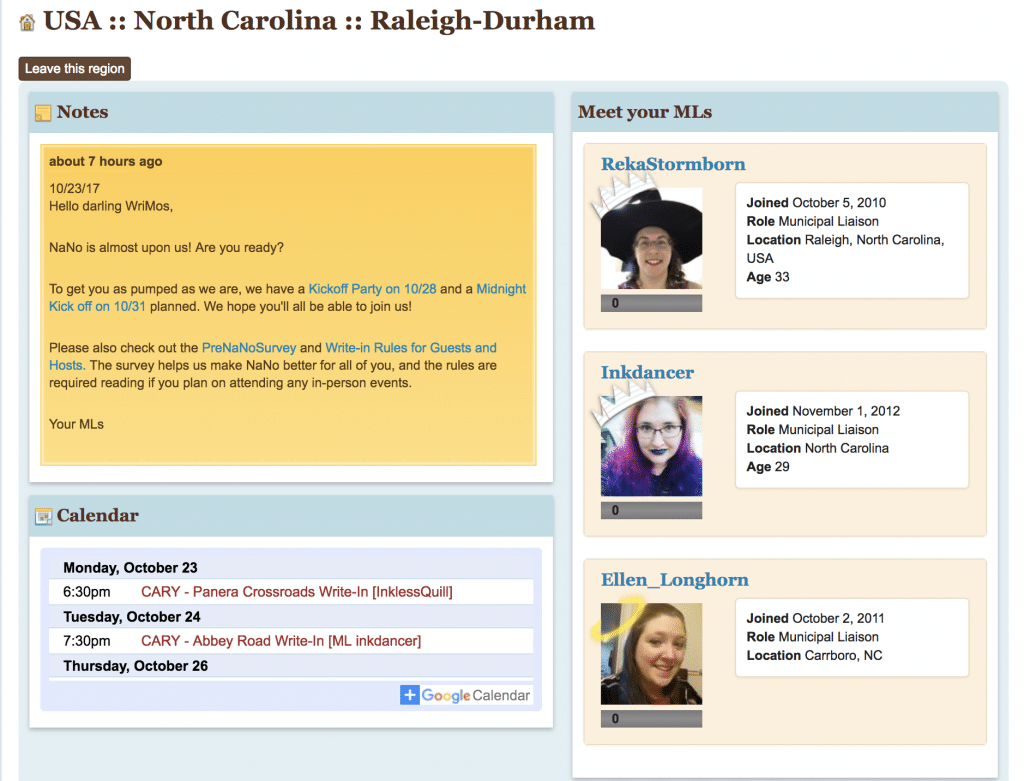 Claim victory
Starting November 20th, you can submit your full novel (at least 50,000 words)  by copying it into the word-count validator by November 30th. If you reach the word-count goal, you win – simple as that!
---
After the month of November
First things first
 Congratulate yourself on your accomplishment. Revel in the joy of your own 50,000-word novel. 
Claim your rewards
Each year, NaNoWriMo has plenty of generous sponsors who offer participants and winners rewards ranging from discounts to book deals.
Share your story
After crossing the finish line, you can choose to keep writing, share your story with friends and family, or pursue publishing.
When the month is over, and you're asking yourself 'now what?' Have no fear! NaNoWriMo continues to provide support and resources for the revision and publishing processes to help your novel reach its full potential.
NaNoWriMo is a month-long creative adventure that takes you deep into your imagination every November.

NaNoWriMo is your chance to finally write the first draft of that novel you've always meant to write.

NaNoWriMo is waiting for you.https://t.co/PQqzNjH9yW

— NaNoWriMo (@NaNoWriMo) September 5, 2018
Did you participate in NaNoWriMo last year? We'd love to hear your story, thoughts, and tips – tweet us at @freedom